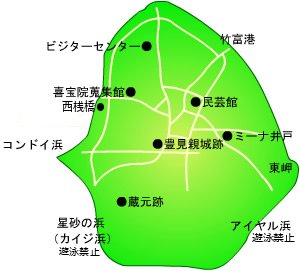 Houses with the traditional red-tile roof iconic of the Ryukyus, clay Shisa lions adorning the roofs' overhangs, walls of coral stones seemingly grown from the ocean itself, and streets paved with white sand that will leave you in awe of the connection between land and sea in this unspoiled vista of Okinawan scenery. Take your time and stroll through the streets to immerse yourself in the islander traditions and culture still thriving today.
Take a leisurely walk or rent a bicycle to cruise the sandy roads, or try sightseeing on an ox-pulled cart for an experience you can't get anywhere else in Japan. While riding your oxcart, listen for Asadoya Yunta, one of the folk songs passed down over generations, as it carries the islanders' pride and spirit through the isle. And if you make the special trip down in November, you can experience Tanadui, the largest annual event of the island which showcases its wealth of performing arts, including traditional song, dance, theater, and martial arts.
Contrasting Shichi of Iriomote, in 2007, many of the traditional tools and utensils of the local culture which had been collected at Kihoin Shushukan Museum were designated by the Japanese national government as significant tangible folk culture assets.