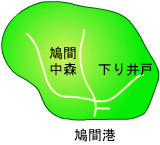 Time flows in a simple and leisurely manner in this island in the ocean just north of Iriomote. It's a birth place of Hatomabushi, the Yaeyama's representative folk song. Hatoma Nakamui is a hill described in the song where one can appreciate the panoramic view of the magnificent view of Iriomote.
Its charming beaches, with communities of blue corals in the north, are unspoiled.
Although the population is small, many visitors come to the island for the three-day good harvest festival held in June of the lunar calendar and for Hatoma Island Music Festival held every year on May 3rd.
Ferry service between the island and Ishigaki started in April, 2006, and the numbers of visitors has soared ever since. A TV drama "Rurino Shima," was shot in the island, and has contributed Hatoma's nationwide recognition.