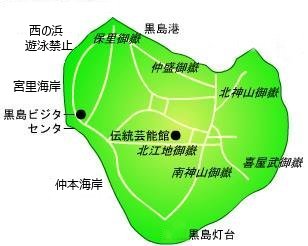 Famous as an island of cows, Kuroshima roughly resembles the shape of a heart and the time flows quietly here. Comparing to the human population of 220, over 3,000 beef cows are raised. Many young natives, who had been living outside the island, return to engage in the livestock business. Now that a new auction market building has been completed, the islanders have high hopes for the further development of this industry.
The island's dragon boat race held during the good harvest festival features unique tradition. Cow Festival, held every February, attracts nearly 4,000 visitors for the locally created event, something other islands without cows cannot do.
Owing to all the island's roads being remarkably level, cycling is the easiest way to enjoy the island, allowing visitors the chance to observe the local ranches and greenery. Moreover, the island's beaches are top notch, even compared to those of the others in Yaeyama. Since Kuroshima is one of the few islands where sea turtles lay eggs in the area, it affords visitors and opportunity to observe a precious phenomenon of the tropics.